Mercedes R230 25-Way Adjustable Coilover Kit with Adjustable Sway Bars and Power Steering (SL280, SL350, SL500, SL55, SL550, SL63, SL600, SL65)
---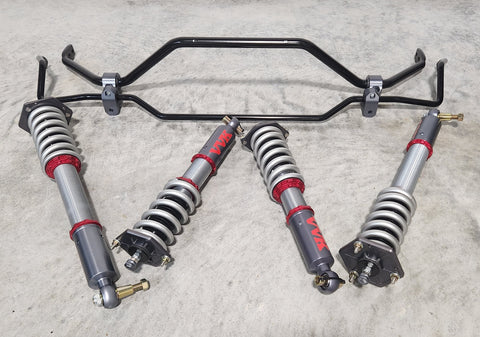 VVK's premier product for the R230 Mercedes. Made in the USA from precision machined parts and built to last. 
Mercedes Active Body Control system (ABC) often becomes a constant maintenance issue, frequently costing thousands with each repair. The VVK coilover kit completely eliminates ABC, for good. This kit includes everything to safely and securely replace your entire ABC system with a coilover suspension (like the SL65 Black Series), not only getting rid of your headaches, but also giving you the confident handling & control your SL deserves.
This kit includes the following:
Full Coilover Suspension (25-click simultaneous compression & rebound adjustment on top of each strut)             
Replacement Power Steering Pump (V8 cars only) (Eliminates the stock dual pump which feeds ABC)      
Custom sport VVK Front and Rear Sway Bars (2-position Adjustable Front) . (These are NOT the small Original Mercedes bars designed for the lighter V6 SL350). 
All Required Hardware for Complete Install
1-Year Limited Warranty on Manufacturing Defects                                                             
This kit is available in two options: Street and Race
The Street version gives you the everyday Grand Touring car your SL was designed to be. With a wide range of adjustable valving you can easily set the car to match your driving style and needs, truly transforming your SL. Dial in softer damping for smooth cruising or turn it up to remind you what the SL can really do.
The Race version goes a step further and increases the spring rates and valving. Especially suitable for aggressive canyon carving, track days and also great for widebody or extra low cars. The fine tuned spring/damper combination really lends a race tuned feel. For those with big HP, this kit will provide the handling confidence to really push your car at the track.
Made in the USA.            
NOTE: New engine mounts are a MUST, (we recommend Mercedes black series part number 2402400817 for better sway bar clearance, performance and durability, especially for cars over 350hp). We have seen 35,000mile cars with original mounts collapsed simply due to age. The sway bar will contact oil pan if mounts are collapsed. 
 ☆ Please allow 2week lead time for each kit hand assembled here in Florida.☆   
 ☆ All cancellations subject to 3.9% processing fee, returns will be subject to 15% restocking fee.☆