Mercedes R230 Sway Bar Kit (SL280, SL350, SL500, SL55 AMG, SL550, SL63 AMG, SL600, SL65 AMG)
---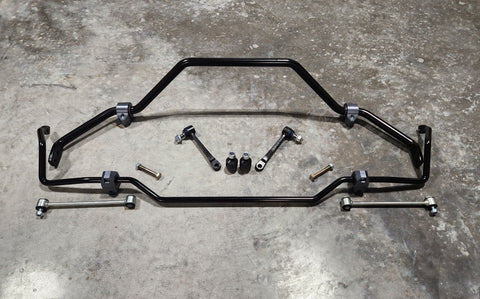 VVK billet mounted custom sway bar kit (includes all required bushings, links, ball joints, mounts and hardware).
Due to Mercedes' unique method of mounting their anti-roll/sway bars, a typical 'D' bushing & strap mount is not possible, so we designed and CNC machine custom brackets to fit the tight packaging on the SL.
 This kits includes all of those parts plus the drop links and 4 ball joints required to connect to your SL.  The front link ball joints need to be pressed into the existing round hole next to the lower shock mount . It should be installed with the threads & hex toward the front of the vehicle.
If you require a power steering pump to replace the ABC/steering tandem pump we have them available by clicking here: V8 or V12 
NOTE: Fresh engine mounts are a MUST, (we recommend Mercedes black series part number 2402400817 for better sway bar clearance, performance and durability, especially for cars over 350hp).  We have seen 35,000mile cars with original mounts collapsed simply due to age.  The sway bar will contact oil pan if mounts are collapsed.